Website Blog
Professional Looking Website VS Do it Yourself Website
Professional Looking Website VS Do it Yourself Website......
May 1st, 2014
Now some of the free online website creation services are much better than these "homemade" websites but are still, in the end, do it yourself websites. I will give them credit for appearances (which is important) but what about SEO (search engine optimization). They do have tools to use to help you in this but really, what do you know about SEO? With your limited knowledge of SEO do you really think you can get the results of a professional?
With Google constantly changing their algorithms how can you possibly know how to get yourself found on the Internet. And if you can't get found then what good is a website?
For example, there was a time that back links would give you great relevancy with Google and really kick start your ranking. The reasoning was, the more back links the higher the ranking. The higher the ranking, the higher you were found on Google (and let's be real, if you aren't on the first page of Google than you really aren't anywhere. And I know that the 2nd and 3rd pages are "good" too but most searchers don't even go that far). Well, now if you have too many "low quality" back links Google may even penalize your site and drop you completely off the radar (see my previous back link blog).
Have you ever heard of the Panda update? How about the Penguin? These are things a professional website creation company knows about and the average Joe doesn't. So there is incredible value in using a professional firm that can do the right thing for your company.
So if you are serious about getting into the 21st century with your marketing and you have a "homemade" website, you probably aren't getting the results that you anticipated. Creating a website built from the ground up with SEO in mind will be a great start towards your marketing goals.
Optimizing Google My Business Step 2
Optimizing Google+Local Step 2......
March 15th, 2014
Okay, sorry about the long delay between posts but I've been slammed.
Step two of optimizing your Google+Local page. Once you've verified your listing on Google+Local, now you need to fill out all of your companies information. So enter in your company address, phone number, website URL (this is very important because if creates a quality back link to your site), hours you are open, a description of your products and services. Fill out everything you possibly can. The more thorough you are the better. Upload lots of pictures that show your company in a great light.
One of the most important things you can do is fill out the description portion of Google+Local. And when you do, you will need to fill it with all of the keywords that pertain to your company. Any keyword that you want to rank for and is prominent on your website should be optimized here. Just cram this description area with loads of keywords (how to find important keywords in your specific field is a subject for another day).
So, anywhere you can put in your keywords as you fill out your Google+Local form, should be taken advantage of.
Lastly, you should link your Google+Local page URL to your website. And vice versa. You will already have a back link to your site when you enter in your website address, so now you should add something to your website. For ex: On my site at LMS Website Services I have put the words "See our Google+Local page" and then linked it to the URL of my Google+Local page. So it links both ways.
Well, that's it. If you follow these procedures you will have gone a long way towards getting listed first in the Google+Local area of Google's search results.....
Optimizing Google My Business
Optimizing Google+Local (Google My Business).....
February 22nd, 2014
Well Google has changed it's local search results from Google Places to Google+Local. This is Google's local directory. Kind of like it's yellow pages for all local business's. Being found in Google+Local is not hard.
Google will index your site and if your company is located in a certain city, let's say White Lake Michigan, then anybody searching for your type of business in White Lake, Michigan will show up in Google+Local.
Now here's the rub. Even though every business based in that city will be listed in Google+Local, not every business will be on page 1. Some will be pages back. Is that where you want your company to be?
Okay then, one thing you can do to be optimized on Google+Local and be found higher up in the rankings is to optimize your name and company description when you claim your company on Google+Local. Oh yes, I almost forgot, you will need to claim your listing so you can optimize it and manage it.
You will need a Google account and/or a gmail account. Once you have these you can go in and search for your company on Google maps (go to maps.google.com. Once there you can search for your company. In the search bar at the top, put in the name of your company and address or city where you are located so Google has some information about your company and will find the right one.
Once you do that you should see companies listed on the left side. Click on the "reviews" link for your business and that should take you into the listing. If that is your business you can scroll down and you will see a box that says "is this your business?" and "manage this page". Click on this link and claim your business.
You'll need to verify your business to prove that you are the owner. That's step one.....
More to come on the next step in optimizing your Google+Local page so you can be found on the top of the search results in the Google+Local area....
More Information On Back Links
More Information on Back Links......
February 1st, 2014
Okay. Naturally occurring back links. What are they??
Naturally occurring back links are the links to your site that other sites have mentioned (put in) in their blogs or on the websites (or many other places on the web for that matter). Gone are the days when you could put a "links" page on your site with lots and lots of links to other sites in exchange for them putting a link to your website on their "links" page. This was called link exchanging or reciprocal links (which aren't all bad, more on this later).
Google sees a page full of just links to other sites as link farming and not a "vote" for that site. Google will penalize this practice if it becomes blatant enough.
Naturally occurring links happen, well, naturally. For example: Say we are a carpet retailer and we mention some of the carpet mills that we carry carpet from. It our content we "link" the name "Mohawk" to their website so customers can go to Mohawk's website to check out the newest styles, colors and trends. That would be a naturally occurring link and Google gives that link high value. In most cases anyways (we don't want to get into every aspect of linking because we could be here all day!!).
So, part of every business owners job is to try to have an ongoing link strategy that will help build their brand (like this blog is doing for us....lol).
Good back links are harder and harder to come by these days and gone are the days of buying low quality back links in bulk.
More to come.....
Mobile Friendly Ranking Factor.......
Google's New Algo and How It Affects You.....
March 21st, 2015
Google is rolling out a new ranking factor for mobile. On April 21st, 2015 Google is adding an algorithm to it's mobile ranking system that will benefit any website that is "mobile friendly". Google realizes that more and more people are searching the web with their mobile phones and tablets so Google wants every (or the most possible) website to be mobile friendly.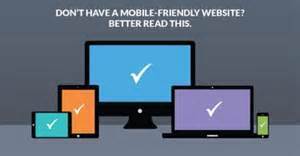 What does mobile friendly mean? It means that when people search and find a website on their mobile phones, the website will "fit" into the screen size. Google realizes that people will scroll up and down on their phones to peruse a website but they don't like to scroll side to side. Traditional websites were sized to fit the desktop. They didn't fit the screen size of tablets and mobile phones.
In recent years webmasters have started to install a mobile friendly template onto their sites so that when people found them on their phones, the site would "fit" within the parameters of the phone screen size. One drawback to this solution was that the mobile template (the overall look of the website) was, in many instances, different than the main website itself.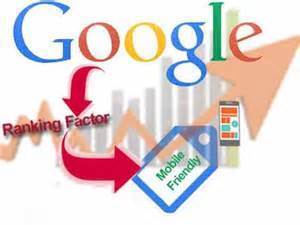 So webmasters started looking for a different solution. What they came up with (and what Google prefers) was a responsive style website. What needed to be done was somehow the website itself would have to realize what device was trying to access it's files and then present the website in a manner that was consistent with the device itself. In general, this is how it's done. Within the core coding of the website itself, code would be imputed that would control the way the website was presented on the end users device. So, for example, if someone on a cell phone was trying to find LMS Website Services, then the site would realize "Hey, a cell phone user is trying to load me". This would trigger the code behind the scenes and the website would reconfigure itself and move certain elements around so that they fit the mobile phone screen size in a pleasing manner. No scrolling side to side. No small text to try and read. The text would re size itself also to make it more readable on the smaller screens.
In the past, a website that was not mobile friendly would rank just as high as a site that was mobile friendly but as of April 21st, that will not be the case. Google wants all websites to be mobile friendly and they will rank (and show in search results) mobile friendly sites higher (everything else considered being the same). Google's intent, in my opinion, is in the end to only present mobile friendly sites in their search results. They want the user experience to be enhanced and a non mobile friendly website showing on a mobile phone is, in their opinion, not a good user experience. So now that mobile friendly appears in Google's algorithm (affecting page rank and position in search results), this would be an important time to reconfigure your website to be mobile friendly if it isn't already.
So, is your website mobile friendly? If not, your position in Google's search results is going to be adversely affected. As the times change, Google changes so we must change. Get your website mobile friendly. It's important!
Nuff said eh..........